Do you like to play naughty games? Obsessive Bunny suit is perfect for you! Wanna try it tonight?
Check all details:
Corset with garter straps.
Sexy slits and cute bows amazing look!
Panties with bunny tail.
Stockings made out of elastic net.
Charming headband with ears.
Fitting lacing on the back useful and very tempting.
Adjustable straps perfect fitting.
This costume consists of: corset, panties, stockings and ears.
Soft and elastic fabrics (corset, panties, ears: 88% polyester, 12% elastane; stockings: 80% nylon, 20% elastane).
Size: S/M.
Obsessive means inspiration for women. Elegance, sensuality, embroidery love … Best fabrics and best embroideries to create unique pieces of lingerie. Years working to join the best quality – prize relation.
World leaders in lingerie! Nobody makes better!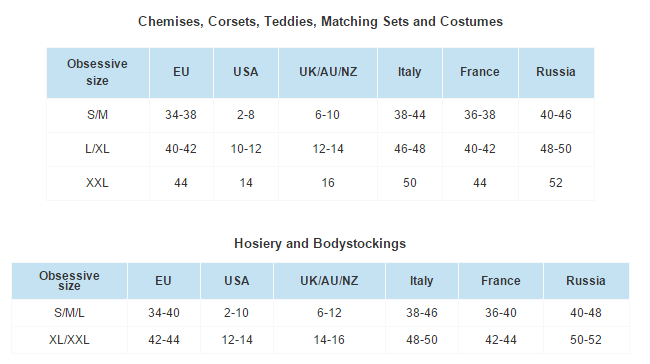 Find out more on our website.